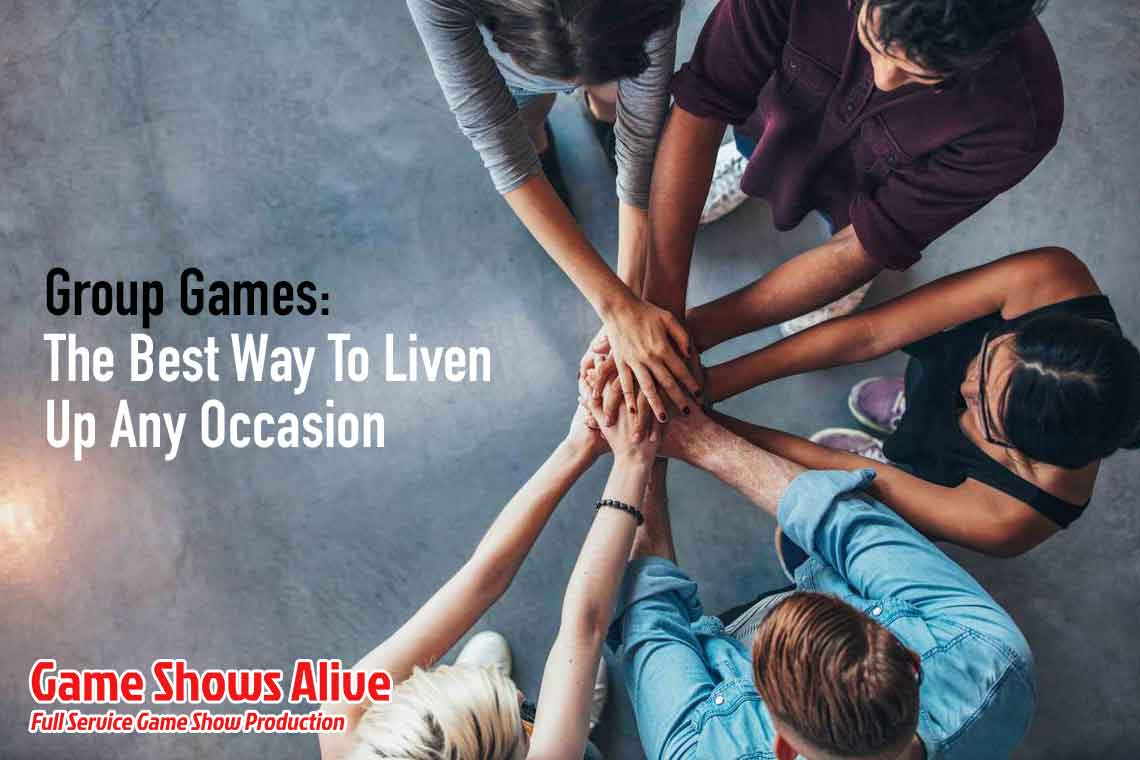 So you have created your event and sent out all of the invitations, but you're not exactly sure how you're going to pull off your event entertainment for your guests for the evening. A group games event by Game Shows Alive may be just what you need to get the party started and your guests mingling and interacting with one another. With our ever expanding list of game shows that are perfect for group events, you'll never be left searching for a conversation starter.
We're able to create and customize any game show to suit your specific needs. If you want the theme to be all about you for your birthday, we can deliver. If it's for a special scouts meeting, we're able to deliver. Everything you want will be customized to suit your needs as well as your specific budget. We're here to ensure that everyone has a great time at your event and people won't be able to stop talking about how amazing it was!
Fun Group Games We Offer
Here are just a few of the group games we offer for your event needs:
Smartie Pants

This game is easily customizable to be a great general knowledge and trivia game around a topic of your choice. You'll be able to play individually or in teams and compete against each other to see who is the smartie pants of the group.

Team Feud

This will make you feel like you're on the set of the actual TV show. You'll be divided into teams to determine exactly how people surveyed the Game Show Alive questions. This is another game that could turn your group games event into a memorable experience as you can choose to customize the survey and questions or use one of our stock surveys – the choice is yours.

Word Play

Try and guess which letter will help you solve the word puzzle as you spin the wheel for clues. This is a fast paced game that will definitely get your blood pumping as quick thinking and some luck may ensure your victory!

Quick Fire

You need to be quick to the draw with this rapid fire trivia game. Remember, the team with the most points will win, as each rapid fire question that is asked is worth a different amount of points. You can play in teams or you can try to outwit and outsmart your fellow players to be the Quick Fire champion.

The Challenge

Don't be in jeopardy with this challenging game show. This can be played as both a light hearted fun event or it can be an intense learning experience. You decide as you take on the challenge.

Jukebox Bingo

You better listen to your radio more often with this interactive game. Players will listen to different songs. By working together or alone, players will need to discover if the song appears on their bingo card. It's an amazing combination of trivia, music and bingo that may have you out of your seats and dancing before you can yell Jukebox Bingo!

Trivia Ladder

Who needs snakes and ladders when you can compete with each other individually or in teams to climb to the top of the trivia ladder? With your own "smart" device in hand, you'll select answers to general or customized trivia questions – The top 3 players will compete in a jeopardy style game to see who is the ultimate Trivia Ladder master!

All In

Go All In to show that you've got what it takes to make your way to the top within the set limit to be crowned the All In trivia champion!
There's no limit to the fun that can be had with the Game Shows Alive team. We'll ensure that your group games event is a rousing success that will have people talking about it for months! If you have any questions, don't hesitate to contact us today!
---
---