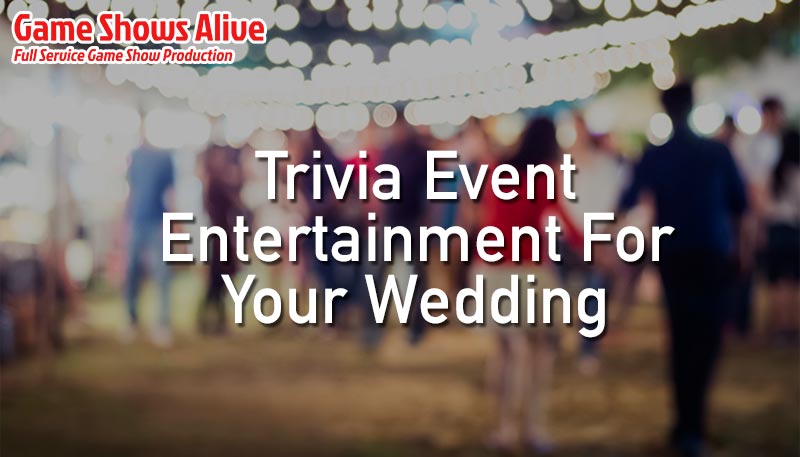 If you have an event such as a bridal shower or wedding coming up, you're probably trying to organize the event entertainment. Some questions that come to mind are what will be the theme and how are you going to keep everyone entertained? Consider trivia game shows at your next bridal shower or wedding as a way to break the ice and get everyone involved. Games Shows Alive is an event entertainment company that can help you bring your favorite game shows to life.
What Are Trivia Game Shows?
Trivia game shows is a great concept where some of your favorite television game shows are brought to life. It provides the entertainment that you see on television, straight to your party or event. All the equipment is set up for you and your guests to play the TV game shows of your choice. It also provides interactive games that you and your guests can play to make entertainment more fun and lively.
Trivia Games are a great option for any event, and if you are planning a wedding and bridal shower, this is definitely the entertainment you should be getting for your parties. Not only will these games provide you with the opportunity to have simulated game shows, but this is also a wonderful way for your guests to get to know each other more. It can serve as the best ice-breaker, and you and your guests will be able to engage with each other in different roles.
You can choose to play some of the best TV game shows such as Jeopardy, Family Feud, Wheel of Fortune and more, or you may make your own game – the choice is yours.
Why You Should Choose Interactive Game Shows At Your Wedding
Apart from providing great, interactive and live entertainment at your wedding, interactive game shows will also give you the flexibility to play game shows best suited to your specific needs. This means that you can choose to either have a well-known game show at your party, or you can create a game especially for your likes and needs – ensuring you get tailor-made, fun entertainment.
If you want to bring your next event to life – get in touch with Game Shows Alive – we offer the best event entertainment in South Florida. An example of games includes:
Trivia games, where your knowledge of the soon-to-be-bride, as well as the guests, can be tested.
Jukebox Bingo, where Bingo and music are mixed, provides a fun Bingo game. Your guests can listen to a song, and if they know the name of the artist, the year it was released, and if it reached the Billboard 100 for example, they have Bingo!

You can also have general knowledge games, where all your guests can participate in a general knowledge challenge. This can be fun, as the questions can be based on all the participating guests.
Event planning can be a stressful task – but with the right entertainment you can rest assured your party will be a great success. Having interactive trivia games at your next event will make sure people remember it.
---
---